【译】张律导演访谈

海边一棵树
2021-11-01 09:42:24
Zhang Lu interview: "If the filmmaker explains the narrative, the film is just ruined"
译者:覃天
校对:易二三
来源:Easternkicks.com(2019年10月9日)
【本文首发于《虹膜》公众号】
We catch up with the director to talk about his latest film Fukuoka and more…
在这次访谈中,我们和张律导演谈到了他最新的影片《福冈》以及其他的内容。
I first met Zhang Lu at 2019 Berlinale before the morning screening of Lou Ye'sThe Shadow Play. We had a chance to chat for a while in between the busy Berlinale schedule. As Zhang Lu's latest filmFukuokawas to screen in July at New Horizons IFF in Poland, we talked again in a more relaxed holiday atmosphere…
第一次结识张律导演,是在2019年柏林电影节《风中有朵雨做的云》的放映现场,在电影节忙碌的间隙,我们有幸采访了他。同年,《福冈》在波兰的耶莱尼亚戈拉电影节上映,在一个令人感到惬意的周末,我们又见到了张律导演,并有了以下的访谈。
When I was watchingFukuokaI thought that the story is quite gothic in its motives and narrative structure, there are elements of classic 19th-century horror for example references to electricity such as sudden power shortages or lightning. While you were writing the script or shooting, have you thought about making a sort of indie ghost film?
While working on the film, I do not have such a specific intention. Once completed, it is possible I discover that there are these influences inside me, maybe I am a person that is drawn to Gothicism. These two films I have recently completed both are love stories, maybe most gothic thing in the world is love.
问:当我在看《福冈》的时候,我认为这个故事在叙事的动机和结构上,都带有强烈的哥特式风格以及19世纪经典恐怖小说的元素,比如突然的停电。当你在写剧本或拍摄的时候,你有没有想过要拍一部独立的恐怖片?
张律:在拍这部电影的时候,我并没有产生这样的想法。而当我拍完之后审视自己的作品时,才会发现我内心里受到过恐怖片的影响,也许我是一个被哥特式的风格吸引的人。我最近完成的两部电影都是爱情片。也许世界上最哥特式的东西正是爱情。
Maybe it is the most frightening too.
Also most beautiful.
问:也许这也是爱情让人们感到害怕的一点。
张律:美丽的事情都让人害怕。
True, love as Gothicism combines two seemingly contradictory extremes.
But when I write the script or work on set, I do not have a specific main motif or convention I want to realize, I would not want to set my mind on shooting a horror, comedy or any other genre. I am more fascinated with people, space, my own emotions, natural daydreams.
问:的确,爱往往既让人害怕又令人心生切慕。
张律:但当我写剧本或在片场工作时,我并没有有意识地去思考电影的主题或惯例,我不想下定决心去拍摄恐怖、喜剧或任何其他类型的电影。我更着迷于人、空间、我自己的情感以及自然的白日梦。
So the movie can become its own living being, at first, there is no strict plan, creation takes it shape in the process. The narration in both films,Ode to the GooseandFukuoka, starts very abruptly, the introduction to the story is very short, we find the characters suddenly deciding to go on a journey. It leaves a feeling of mystery or secret behind it.
But then we realize there is no secret, it all comes down to a cliche love story.
问:看来,你的电影可以拥有自己的生命,并且它们一开始都没有严格的拍摄计划,在这个过程中,你形成了自己的创作。《咏鹅》和《福冈》这两部电影的叙述都开始得非常突然,电影对故事的背景介绍十分简短,倏然间我们发现人物已经决定要去旅行了。这带给观众一种神秘感。
张律:但后来,大家都会意识到这并不是什么秘密,这两部电影都可以归结为陈词滥调的爱情故事。
At first you connected your future work with literature, working as a professor of Chinese literature at Yanbian University, what made you choose this specialization? What were your favourite authors or books while you were young?
At first I read the books taught in literature class, at school I was really bad at math, so I would not choose to focus on the sciences. When it comes to literature, broadly speaking, all people have emotions, but the ones who choose to go into liberal arts are the people who will take these emotions and think them through. They will analyze the emotions, its' strengths, weaknesses, inner problems and contradictions. Exact scientists or mathematicians also have emotions, but they would not reprocess them in a way a person from the area of humanities does.
When it comes to my favourite books or authors from the time I was young, a lot of titles were forbidden then in China (born 1961,【张律出生于1962年】school years during the Cultural Revolution), so the selection of books available to read was scarce. To choose from those that were allowed and also good was difficult, so we were left with Lu Xun or classicDream of the Red Chamber, because Mao Zedong really liked Dream of the Red Chamber. If he didn't like it, possibly we wouldn't be able to read it also. Mao Zedong also likedJin Ping Mei(金瓶梅, translated into English asThe Plum in the Golden Vase), but this novel was only made available for the members from provincial party committee upwards, not for the commoners. Mao Zedong even issued a document about the matter, saying that reading originalJin Ping Meiis beneficial to high party members. It is an erotic novel, during the Maoist era it could be considered as an encyclopedia of some sort. But this novel we were not able to read openly. Nevertheless, it was in circulation in the non-official handwritten copies. We would read it in secret, switching the book covers and pretending to be readingDream of the Red Chamber, when actually readingJin Ping Mei. But both of them are grand novels. To come into contact with literature, in China or in other so-called communist states, being passionate about literature is difficult. Choosing to work in this field is something that requires courage.
问:你在年轻时就将自己的工作和文学联系在了一起,在延边大学当中文系教授。是什么让你选择了这个专业?你年轻时有哪些喜欢的作家或书?
张律:起初我阅读的都是老师在文学课上分享的一些书。我读书时的数学成绩真的很差,所以我一点也不关心理科。说到文学,一般说来,所有人都有情感,但选择接触文科的人,是那些愿意接受它,情感充沛并且心思细腻的人。他们会分析情绪,分析它的长处、短处、内部问题和种种矛盾。即便是严谨的科学家或数学家也有情感,但他们处理情感的方式却和人文领域的人决然不同。
至于我小时候最喜欢的书或作家,很多书在当时的中国(张律出生于1962年,在十年动荡时期度过了自己的学生时代)是被禁止的,所以很难选出一本可供阅读的好书。我们只能去看鲁迅的作品或者经典的《红楼梦》。还有情色小说《金瓶梅》,在那个时代,它在某种程度上可被视为社会的百科全书。但是我们不能公开阅读这本小说。然而,它在非官方的手抄本中流通。我们会偷偷地阅读,换上书皮,假装在读《红楼梦》,而实际上读的是《金瓶梅》。《红楼梦》和《金瓶梅》都是宏伟的小说。无论是在当时的中国还是在其他的共产主义国家,要接触文学,并且对文学充满热情是很难的。选择在文学领域工作需要勇气。
I suppose it is because there is no one answer but a limitless amount of possible answers. SoJin Ping Meihas a lot of different versions…
Yes, there is also an "innocent" version.
问:我想这是因为文学不会给读者提供一个确切的答案,而是无限多的可能答案。《金瓶梅》也有很多不同的版本。
张律:是的,人民文学出版社还曾在1983年出版了删除性描写相关内容的「洁本」。
It's a bit like Kuomintang officials editing newspaper articles by directly cutting out the unwanted fragments and leaving a blank spot. But when you were young, was it possible to read foreign literature, such as Soviet?
Yes, of course, for example Maxim Gorki's works. There was one communist novel that was very popular in China at that time,How the Steel Was Temperedby Nikolai Ostrovsky. When going to visit friends, sometimes it was possible to read books their families' kept hidden in the house such as Tolstoy's or Dostoyevski's novels. At that time in China coming into contact with literature, especially novels, usually started with the works by Russian authors. We couldn't buy them in bookstores anymore, but it was possible to read the old editions that friends of friends or someone from their family bought in the past and kept at home. From the 1980s, the era of reform and opening up, a lot of European, Japanese, American literary works started to appear on the market. Then we were devouring these books very fast.
问:这有点像编辑报纸文章的那些审查人员的做法,直接把不想要的片段剪掉。当你年轻时,有没有机会去读外国文学,比如苏联文学的著作呢?
张律:是的,当然,比如高尔基的作品。当时有一本共产主义小说在中国非常流行,就是奥斯特洛夫斯基的《钢铁是怎样炼成的》。当时,在朋友家有时可以阅读他们家人的藏书,比如托尔斯泰或陀思妥耶夫斯基的小说。在当时的中国,我们通常是从苏联作家的作品开始接触文学,尤其是小说。我们无法在书店买到这些作品,但可以阅读朋友或朋友家人的收藏的旧版本。自改革开放以来,欧洲、日本、美国的文学作品开始涌入中国,我们如饥似渴地阅读这些书。
During Cultural Fever (文化热) you were still in Yanbian, when was the first time you went to South Korea? Did you speak Korean before?
I went to South Korea for the first time in 1995, just travelling. In Yanbian, although I went to Chinese-language school and university, but I was speaking Korean at home.
问:上世纪80年代文化热潮兴起时,你还在延边大学读书,你第一次去韩国是什么时候,在那之前你说朝鲜语吗?
张律:我第一次去韩国是在1995年,但只是旅行。在延边,虽然我在学校和大学里接受的是中文教育,但在家里我会说朝鲜语。
I am curious if your next film also would be shot in the coastal city such as Gyeongju, Gunsan or Fukuoka? What draws you to the cities by the sea?
Each time the reason behind the location differs, though these and future locations are all connected to water. With Fukuoka, I chose the city for several reasons. The first one is when I attended Fukuoka International Film Festival I really enjoyed the event and came to like the city a lot, so I decided to come back and shoot the film there, in the alleyways close to our hotel. The second one is Fukuoka is a Japanese city that is geographically located closest to Korea. Another reason might be that Fukuoka is a harbour city that throughout Japan's history remained open to traders from China, as one of the very few exceptions in the isolation era (Sakoku, 鎖国), when the shogunate was blocking international trade. In Fukuoka, there was the earliest Chinatown in Japan and nowadays migrants from China still often choose to settle in the city.
问:我很好奇你的下一部电影也会在庆州、群山或福冈这样的海滨城市拍摄吗?海边城市有什么吸引你的地方?
张律:关于拍摄地的选址,每次选址背后的原因都不同,尽管这些地点都和水的元素相关。至于《福冈》,我选择这个城市有几个原因。首先,当我参加福冈国际电影节的时候,我真的很喜欢这个电影节,也非常喜欢这个城市,所以我决定回到那里,在我们酒店附近的小巷里拍摄这部电影。另外,福冈作为一个日本城市,地理位置离韩国最近。还有一个原因可能是,福冈是一个港口城市,它在日本历史上一直对来自中国的商人开放,是日本锁国时期少数开放的城市之一,当时的幕府政府封锁了国际贸易。福冈有日本最早的唐人街,如今来自中国的移民仍然经常选择在福冈定居。
All these tropes appear inFukuoka, though this time the plotline involving Chinese character is episodic. Could you tell me more about it? And I am curious what is the title of the book the Chinese woman is reading while she encounters main female character ofFukuoka, So-dam?
This episode was actually quite unplanned. When I was preparing to shoot in Fukuoka, one of my Chinese friends told me she will be travelling there at the same time, so I thought I could include a new character in the narrative. I told my friend to bring the book that is currently a top bestseller in China and we will arrange the scene of her meeting So-dam while reading the book. It turned out the top bestseller was Haruki Murakami's latest novel,Killing Commendatore. I did not read it before completingFukuoka, but afterwards, I did and it turned out the motives in the book, explicit description of sex and violence, are quite close to the ones inJin Ping Mei– the novel that So-dam reads inFukuoka.
问:所有这些比喻都出现在了《福冈》中,尽管这一次涉及中国人物的情节是插曲式的。你能告诉我更多关于它的情况吗?我很好奇这位中国女人在福冈遇到女主角素丹时读的书叫什么名字?
张律:这一段情节其实是完全出乎我的意料。当我准备在福冈拍摄时,我的一位中国朋友告诉我,她将在同一时间前往福冈,所以我想我可以在叙事中加入一个新的角色。我让她带了一本目前在中国最畅销的外国小说,因为我们会拍一场在阅读这本书时,和素丹见面的戏。她带了是村上春树的最新小说《刺杀骑士团长》。在完成《福冈》之前,我没有读过这本书,但后来我读了它。《刺杀骑士团长》中对性和暴力动机的明确描述,与《金瓶梅》中的描述相当接近——当时素丹读的就是《金瓶梅》。
InFukuokathe story of two men maybe comes up more to the front, but there is also a plotline focusing on two female characters. They can be perceived as representing South Korea and Japan, reflecting on the complicated relations between these two countries and their shared history. This plotline also connectsFukuokawith the story shown in your other 2018 film,Ode to the Goose. I would like to ask about the traditional Japanese doll that appears inOde to the Gooseas well as in the bookstore window inFukuoka, how did you decide to include it in the film? Is there any back story?
The relations between Korea and Japan are very complex. In both films the doll is connected to female characters, the interpretation of that relationship depends on the audience, regardless if someone watched both films or only one, becauseFukuoka,as well as my previous film,stand as separate cinematic works. While I was shootingOde to the Goosein Gunsan, the motivation behind including the doll into the narrative was not so complicated. I saw the doll in the shop in Gunsan, but it was very expensive, handmade art prop, our film production budget could not cover the whole price. Yet I decided I have to use it in the film, because the doll was very beautiful. My producer suggested that maybe we could buy a cheaper replica, but I refused, I said I have to buy this exact one. Then we agreed that I myself will cover part of the price that exceedsOde to the Goosebudget. I put my own investment into this doll, so I thought I might as well use it again inFukuoka(haha) Now the doll stands in our company's office, that's the story behind the prop. When it comes to the relationship between this object and the characters in the film, it is very much open to interpretations. If the filmmaker explains the narrative, the film is just ruined.
问:在《福冈》中,观众可能更多地会被两个男人的故事所吸引,但也有一个情节聚焦于两个女性角色。她们可以被视为韩国和日本的代表,并反映了这两个国家之间复杂的关系和共同的历史。这一情节也将《福冈》与你2018年的另一部电影《咏鹅》中的故事联系在一起。我想问一下《咏鹅》以及《福冈》书店橱窗里出现的日本传统玩偶,你是怎么决定把它放进电影里的呢?有什么特别的理由吗?
张律:韩国和日本之间的关系非常复杂。在这两部电影中,玩偶都与女性角色有关,而这种关系的诠释权取决于观众,无论他们看了这两部电影,还是只看了其中的一部。《福冈》和《咏鹅》都是相互独立的作品。当我在群山拍摄《咏鹅》时,将玩偶纳入叙事背后的动机并没有那么复杂。我在群山的商店里看到了这个玩偶,但它非常贵,是手工制作的艺术道具,我们电影的预算无法让我买下它。但我决定我必须在电影中使用它,因为它非常漂亮。制片人建议也许我们可以买一个更便宜的复制品,但我拒绝了,我说我必须把它买下来,我自费买了下来,没有超出预算,所以我想我不妨在《福冈》再用一次它(笑),现在我把这个玩偶放在了公司的办公室里,这就是道具背后的故事。它和电影中的人物之间的关系是非常开放的,可以有多种解读。如果一个电影导演开始向观众解释故事,这部电影就完蛋了。
It just seems the doll had some magic in it.
It is all possible, there is no one answer. Maybe in my next film, the doll will reappear… So-dam carries the same bag that the female character has inOde to the Goose, with the image of the Eiffel Tower on it and inFukuoka,there is also a tower in the harbour. A lot of props in my films return to the screen in my next projects. We also put the bag in the company's office to use again in the future.
问:似乎这个玩偶身上也带有一些魔力。
张律:一切都有可能,没有唯一的答案。也许在我的下一部电影里,这个玩偶会再次出现......素丹和《咏鹅》中的女主背着一样的包,上面都有埃菲尔铁塔的图案。在《福冈》中,海港里也有一座塔,我电影中的很多道具都会出现在我接下来的电影项目里。我们还把这个素丹的那个包放在公司的办公室里,以备以后可以再用。
As if the props have a life of their own.
(Haha) Yes, a life of their own.
问:这些道具好像都有自己的生命。
张律:「自己的生命」,你说得很对。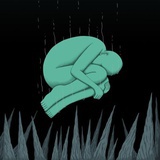 海边一棵树
(北京)
你只有保持内心的丰富,才能摆脱这些表面的相似。
海边一棵树的最新日记 · · · · · · ( 全部 )
热门话题 · · · · · · ( 去话题广场 )