LiquidText PDF Document Reader: Annotate & Excerpt
iPad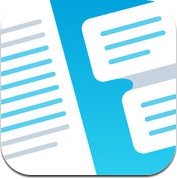 简介 · · · · · ·
*** Named "Most Innovative App of 2015" by Apple App Store ***
LiquidText offers a fast, natural way to review, gather, and organize information across all your documents and webpages—then apply the results to writing reports, meeting prep, or simply studying. Pull out key facts and connect them together, squeeze a document to compare sections, draw a line to connect ideas in different documents, comment on multiple pages at once, build upon your thoughts, and much more.
► WHAT PEOPLE ARE SAYING:
* "One of the most powerful, original iPad apps I've tried in years" – Federico Viticci, MacStories.net
* "I think LiquidText is on to something." – David Sparks, Macsparky.com
* One of Mashable's Ten Best iPad Apps of 2015 *
* One of Time Magazine's Ten Best apps for iPad Pro *
* Named "Best App of September," 2015 by Apple App Store *
* Named One of the Top Ten Products of 2015 by TechnoLawyer *
► LIQUIDTEXT'S COMPLETE FEATURE SET INCLUDES:
(Note that a single In-App-Purchase is required to put multiple documents in one project, to use inking, or to search across documents.)
Import
• Create a workspace and import all the documents and web pages you need
• Compatible with PDF, Word, and PowerPoint document types
• Import from Dropbox, iCloud Drive, Box, email, and more
• Import content from webpage or send to LiquidText directly from Safari
Interact
• Pull excerpts from all the documents in your project into the Workspace area
• Add your own notes (typed or written) to the Workspace area
• Freely draw on your notes, or on the workspace itself
• Organize excerpts and notes into groups
• Connect anything - draw live "ink links" that span pages, documents, notes, and more
• Create mind-maps by drawing "ink links" connecting your excerpts/notes to one another
• Get context - tap notes and excerpts to find original source
• Scrollbar shows where highlights, comments, excerpts, and search results are located
Compare
• Pinch a document to compare different distant pages side by side
• Collapse text to see annotated parts side-by-side
• Collapse text to view search results(s) side-by-side
• Import unlimited number of documents into a project, view up to 3 at once
Annotate
• Freely draw or highlight on your document, notes, or the workspace itself
• Add margin notes/comments to text, images, notes, and excerpts
• Comment on two or more selections simultaneously
• Make comments that link to multiple documents at once
Search
• Search for keywords across all your LiquidText documents
• Search from LiquidText home screen, or from Spotlight
• Find keywords in title or text of your documents
Share
• Export your project as a PDF (includes your Workspace and documents)
• Export your project as a Word file (converts your notes/excerpts into a linear document)
• Send a full LiquidText file for those with the app.
• Send files by email or to Dropbox, iCloud Drive, Box, and more
Learn more at LiquidText.net | Comprehend More.
喜欢的人也喜欢 · · · · · ·
LiquidText PDF Document Reader: Annotate & Excerpt (iPad)的话题 · · · · · · (

全部 条

)

什么是话题
无论是一部作品、一个人,还是一件事,都往往可以衍生出许多不同的话题。将这些话题细分出来,分别进行讨论,会有更多收获。